Take a Look at Our
MOST POPULAR TOURS
Tripadvisor:"Badge of Excellence"
Tour program: 11.30 am to 6 p.m.
Cable Car to Ba Na Hills
Discover fantasy park
Golden Bridge
French wine cellar
Linh Ung pagoda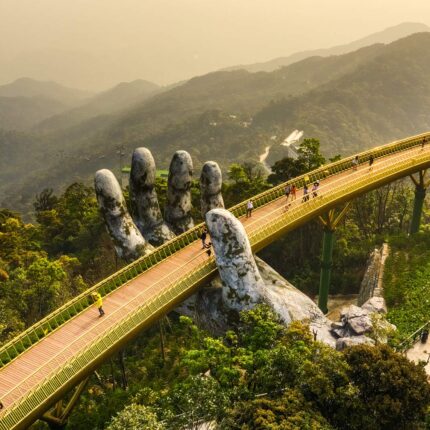 -Explore Ba Na hill, sightseeing the panoramic views
-Discover the famous bridge is golden bridge
-Buffet lunch
-Discover fantasy park with some adventure game
Tour program: 3:30 pm to 9:30 pm
Enjoy the beauty of Dragon Bridge Fire and Water show at weekend
Try Vietnamese local food
Visit Han market
Monkey Mountain
Highest Lady Buddha (67m) statue
We can arrange any private tour upon your request !
Private Tours By Local Guides
PRIVATE TOURS
Group Tours By Local Guides
GROUP TOURS
Transportation
Shuttle Bus Service
We offer a daily shuttle bus service from Hoi An to My Son Sanctuary – Go and come back.
We offer a daily shuttle bus service from Hoi An to Ba Na Hills, Golden Bridge – Go and come back.
Some statistics about Simply Vietnam Travel
CENTER ACHIEVEMENTS
Special Tour in April, Discover Danang mini tours for 100 customers with
discount 20%
It's limited seating! Hurry up
Tours Reviews
Sue
A bus picked us up at our hotel in the morning and we headed to the My Son ruins with about 15 tourists. On the bus, Mr. Lee (guide) explained the history of the My Son ruins. Even at the My Son ruins, he explained each ruin carefully. I can't speak English very well, but we enjoyed his explanations in easy-to-understand English. After having a home-cooked meal for lunch, we headed to Hoi An by boat. It was refreshing to be able to go sightseeing with people from various countries.
Hans "Chang"
I did the tour with tour guide Mr. Turtle, we tried a lot of vietnamese local food and street food. If you like to try some new tastes, you are right on this tour!
joan
Mable mountin and Bana Hills tour Great tour at a lovely part of Vietnam. Our tour guide for the day, 'Duan' was fabulous and provided us with plenty of information at the sites. He spoke English very clear and so good. Would use Simply travel vietnam again next time in Ho An.